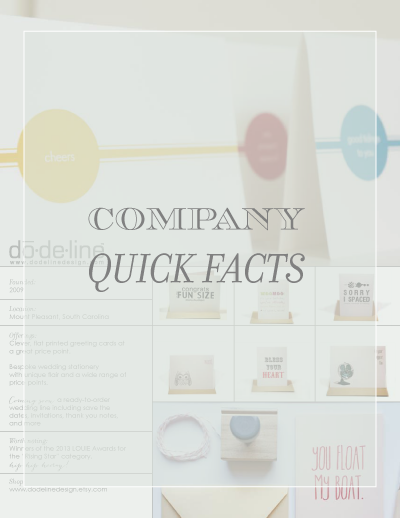 We absolutely love working with other businesses and fostering long lasting relationships. Our wholesale greeting cards are reasonably priced and packaged so that they will stand up to all the normal wear and tear of retail shelves. Check out our Wholesale Quick Facts for a downloadable PDF with a little bit about us and find answers to frequently asked questions below.
frequently asked questions
What do I need to have in order to qualify as a wholesale customer?
You would need a resale license number in the state in which you do business. Please also send along your company website.
Do I have to order a certain number of each card?
For wholesale orders, we do ask that you order at least 4 of each design you select.
Is there a minimum order?
Yes. We ask for a minimum opening order of $100 and a minimum reorder of $50.
How do I pay for my order?
For opening orders, payment is required in full prior to shipment. Subsequent orders are NET30. All payment should be made via check to Dodeline Design.
How are your cards packaged?
Each card is size A2 (4.25″x5.5″) and packaged with a coordinating envelope color in a cellophane sleeve.
Are barcodes available?
We can provide a single barcode for the entire line (i.e. each design is not individually barcoded; there is one dodeline barcode). Please request barcode stickers when you place your order.
How do I get a wholesale catalog?
To request a wholesale catalog and line sheet, please e-mail your request to info@dodelinedesign.com.